Good Company: The 'Happy House' of the Himalayas
By Mitch Moxley • Jan. 17, 2019 2:46 p.m. ET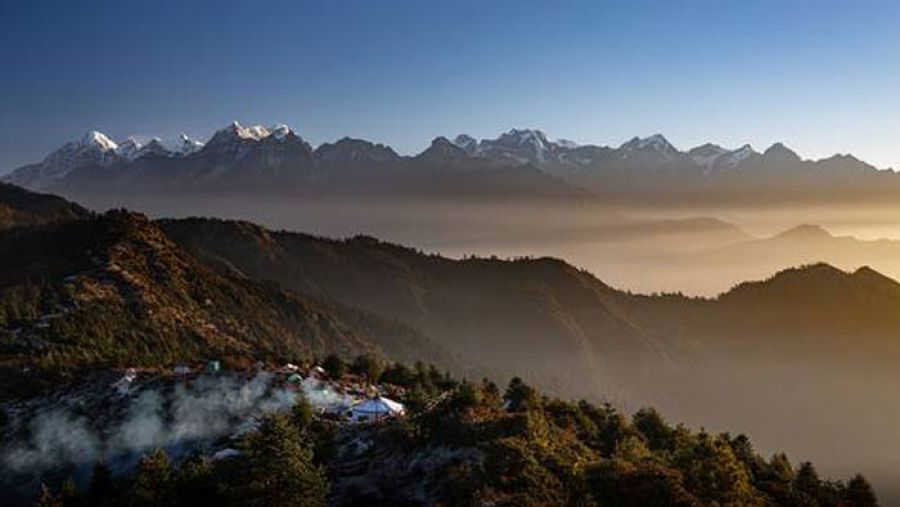 The area around Phaplu features Sir Edmund Hillary's favorite mountain views. JUSTIN BASTIEN
In the village of Phaplu in northeast Nepal, near Mount Everest, stands the favorite retreat of the late Sir Edmund Hillary. Hillary and the Sherpa mountaineer Tenzing Norgay were the first climbers confirmed to have summited the world's highest peak. He first traveled to Phaplu in 1975 to found a hospital to serve the communities in the Solukhumbu region, and he said the mountain views there were the best he'd ever seen.
Dubbed Happy House, the retreat belongs to the family of Ang Tshering Lama, 29, whose ancestors have lived in the region around Phaplu for 17 generations. His great-great-great-grandfather build the first monastery in Phaplu, and his family has taken care of it since.
Ang's family fled Nepal's civil war in the 1990s, settling in the United States. But in 2015, he returned to Phaplu to run the family business, called Beyul Experiences. (Beyul means "sacred land" in Sanskrit.) During the family's absence, Happy House was largely abandoned and later rented to a German filmmaker. When Ang returned, he worked to renovate and restore the home, and opened it up to visitors. At 2,500 meters in elevation, Phaplu is a rest stop on the way to Everest, and Ang leads excursions from Phaplu following old Himalayan yak routes.
"Beyul Experiences is a concept travel company in our part of the world in a sense that we are functioning completely off the major tourist trails," he says. "There is a lot of history and culture in our region, but this have been overshadowed by the commercial tourism happening in the Everest region, which is not very far from where we are."
But the area around Phaplu is devoid of the kinds of tourists found near Everest base camp. What Beyul offers, Ang says, is authenticity.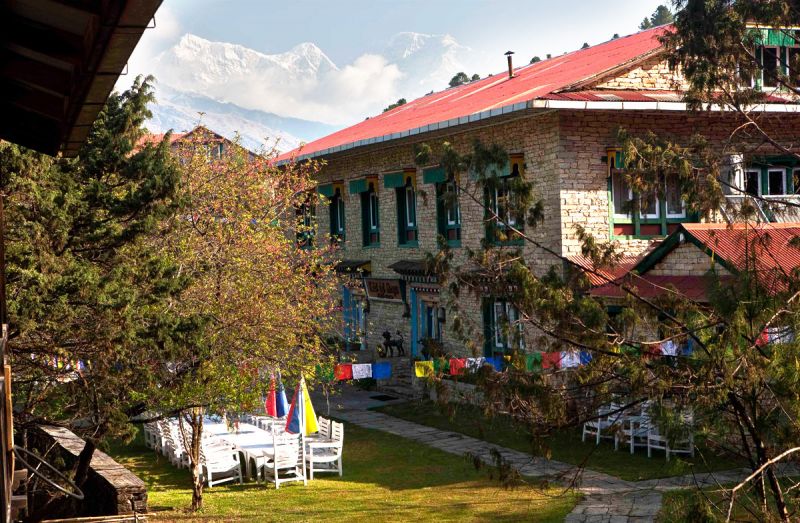 Happy House has 10 rooms in a 2.5-story building, and it can accommodate up to 20 guests at a time. THOMAS L. KELLY
THE PLACE
Nicknamed Happy House because of Hillary's affection for Phaplu, the home was actually built by Italian Count Guido Monzino, who came to Nepal and led the first Italian expedition to Everest in 1973—a lavish caravan that featured 6,000 porters, gambling tables, and silver cutlery. Ang's father was one of the local members of the expedition. Monzino loved the village of Phaplu so much—he called it the Lake Como of the Himalayas—that he returned and built the house. He imported furniture from England and Italy, and donated other items that had been brought to the mountains for the Everest expedition.
Happy House has 10 rooms in a 2.5-story building, and it can accommodate up to 20 guests at a time. It features hand-painted Tibetan artwork, and cashmere blankets are strewn on the furniture. An organic garden outside provides much of the food served at the home.
PRICE
Stays at Happy House, and camping trips in the region, cost $400 per person per day, which includes food, drinks, and all activities and excursions (including mountain biking, hiking, yoga and guided meditation, sauna, and massage therapy). "The idea is that when you get here, there is no monetary transaction. That lifts away the pressure of the guests," Ang says.
Visitors can add an Everest helicopter flight ($850 per person), which flies by Everest base camp and provides unadulterated views of the mountain.
Beyul runs trips in spring (April-May) and autumn (Oct.-Nov.). There is a total of just 10 Beyul Experiences each year. "We don't put two groups together at the same time," Ang says. In the summer the group offers author and meditation retreats.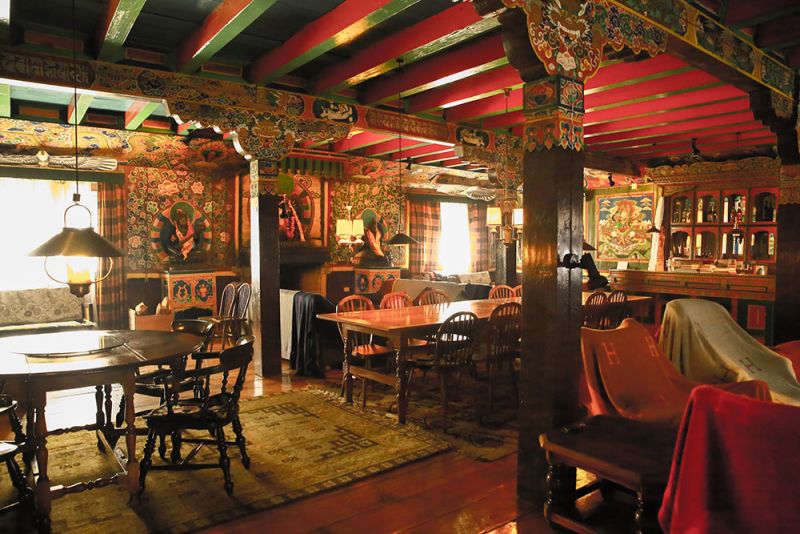 The home's interior features hand-crafted Tibetan artwork. COURTESY BEYUL EXPERIENCES
WHAT'S THE GOOD?
"We are actively involved with several social projects in the region, from healthcare, education, environmental, and youth development in sports," Ang says. "We want to invite visitors who are looking to have a meaningful experience on their holiday and we want to create a platform where both the visitor and the visited have a meaningful exchange."
For each booking at the Happy House, Beyul provides one year of health insurance for a family. It houses international doctors who travel to Phaplu to work in the local hospital, which serves 100,000 a year from across a wide region. The company has raised £16,000 (US$20,754) to provide small stoves for local families, and has conducted an awareness campaign about the dangers of cooking smoke. (Exposure to smoke is the leading cause of death in the region.) Beyul has also worked with a Belgian NGO to build a library at the monastery.
WHAT'S NEXT?
Looking ahead, Ang is focused on expanding the Phaplu Mountain Biking Club, which trains local children to be mountain biking guides, offering a possible source of income in a region that lacks options.
"Many youth from our villages, due to lack of employment, have to go high in the Himalayas to take risky jobs as mountain porters," Ang says. "Therefore the main vision and ambition of Beyul Experiences is to work toward cultural conservation of the Himalayan people, and to offer opportunities to the youth through our operations."